Love Is In The Air - Valentine's Day Cookies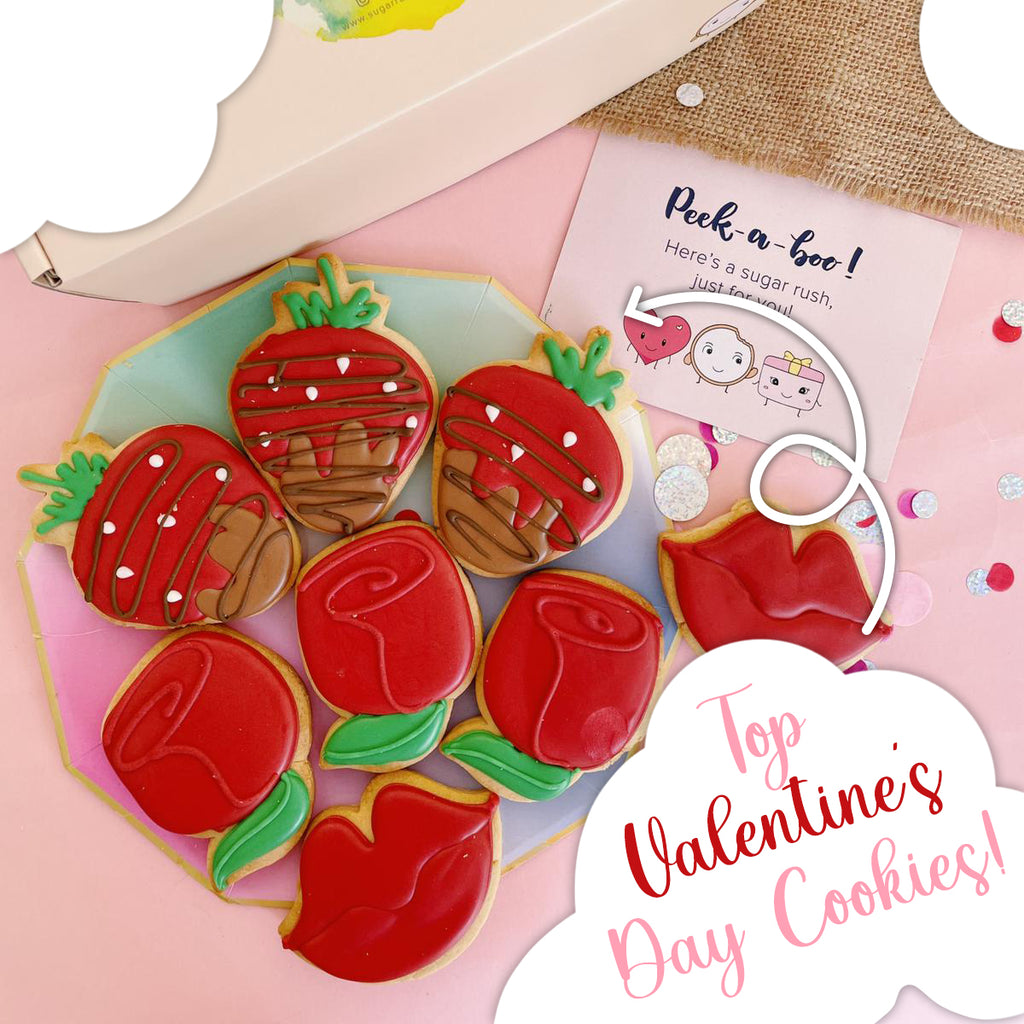 Hey everybody! We hope you've had a great start to the year 2022 so far!
January
has flown by in the blink of an eye, and now, we'll be faced with greeting fabulous
February
in just a matter of days!  And you know what special occasion the month brings along with it:
Valentine's Day!
Valentine's Day is a once-in-a-year celebration of all things romantic! It's a day to reaffirm one's romantic love, friendship and admiration for someone they adore! Every year on February 14th, people send messages of love and affection to their lovers, partners, families and friends. What if we told you, that you could say all you wanted to in the form of deliciously baked cookies?
Today, we'll be sharing with you our latest Valentine's Day-themed cookie packs that you can get for your loved ones this upcoming romantic season!
Luxury Gift Box - Cheeky Emoji Cookies
Get this cookie pack now! 
Want to set the mood this Valentine's Day with your beloved? Nothing like some suggestive sugar cookies to hint at the possibilities! Put an eggplant and a peach emoji together, coupled with the sweat emoji, and what do you get? Our 'Cheeky Emoji Cookies' cookie pack and a guaranteed good time with your lover - thank us later!
Luxury Gift Box - Valentine's Pack
Treat your partner to some delicious cookies this Valentine's Day with our Luxury Gift Box - Valentine's Pack! You can't go wrong with roses, strawberries, chocolate and regular kisses, especially if they're in the form of homemade cookies!
Breakfast In Bed
Surprise your partner this Valentine's Day with some breakfast in bed! Our Breakfast In Bed cookie pack is sure to provide a hassle-free surprise - no need to get up early to cook, or worry about burning your bacon! Plus, you get a sugar rush to start your romantic morning! *wink*
To My Lovebug
To my dearest lovebug, Happy Valentine's Day! You know you've got it bad when you've been bitten by a lovebug! Let your significant other know how head over heels in love you are with them, with our To My Lovebug cookie pack!
Red Is For Romance
All things Valentine's often come in red, and we all know that red is for romance! Enjoy a twist on *chocolate coated strawberries via our delicious sugar cookies, smell the freshly baked roses, and taste our sugar sweet kisses with our Red Is For Romance cookie pack!
*not actual chocolate, just good ol' icing!
---
Now that you've browsed through our cookie list - surely, you know what you're getting your significant other for Valentine's Day! Don't miss out - book your cookies in advance before the lovey-dovey season gets awfully busy for us (it always does, this time of the year)!
Until next time!