Delicious Food-Themed Cookie Packs!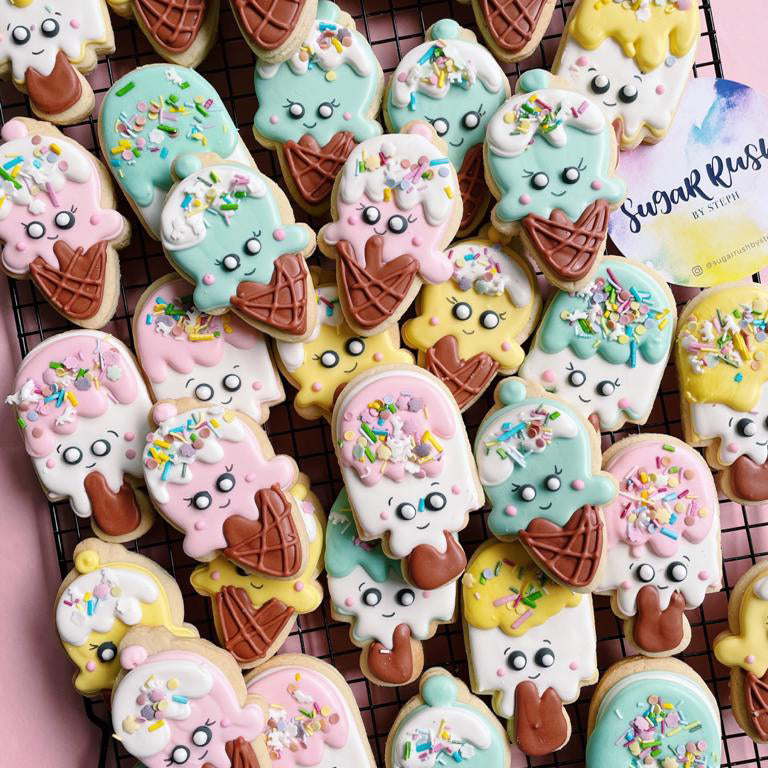 Today, we're going to be sharing with you the TOP 10 Delicious, To-Buy Food-Themed Cookie Packs! Have you ever enjoyed watching your food be decorated up as cute mini-foods? Look no further, we have just the cookies for you! We think food-shaped cookies are absolutely adorable, so why not browse this list and judge for yourselves?
Without further ado, here's our Top 10 Delicious Food-Themed Cookie Packs!
-----
10. Two Peas In A Pod
If you and your significant other are just Two Peas In A Pod, then there's no better way to tell that special someone that you are just meant to pea, by getting this adorable food-themed cookie pack! Pro tip: this cookie pack is also great as a Valentine's Day gift!
9. Sweet Sentiments
Here's the big scoop on what's cool these days: dessert-themed cookies! These bright, pink treats are sure to make you melt with happiness! This pack contains an assortment of shapes - iced waffle hearts, pink hearts, and yoghurt cups. Sweeten your cart by purchasing these Sweet Sentiments now!
8. Red Is For Romance
All things Valentine's often come in red, and we all know that red is for romance! Enjoy a twist on *chocolate coated strawberries via our delicious sugar cookies, smell the freshly baked roses, and taste our sugar-sweet kisses with our Red Is For Romance cookie pack!
7. Guac n' Roll!
What's the best way to start your breakfast routine? With some avo and toast! Rock out (or as we like to say, guac out!) with these hardcore avocados! These googly-eyed avos come in a pack of 10, 12 or 15, the more, the merrier — you'll 'avo good day, for sure!
6. A Whole Latte Love
If you've got a whole latte love for caffeine and sweet treats, Sugar Rush has got you covered with our 'A Whole Latte Love' cookie pack! These adorable coffee mug-shaped cookies can't wait to be part of your morning coffee routine!
5. Let's Taco 'Bout It!
Holy guacamole! These tacos are jalapeño business with their adorable little faces! Perfect for a Mexican night in or for a potluck party! Get this cookie pack today and you'll be able to taco 'bout it with your friends! Let's Taco 'Bout It!
4. Toast Hosts
Your host for today's breakfast is a bunch a little toastie friends with big hearts! What better way to start off your day than having some toast - toast-shaped cookies, that is! These little fellas are eager to help you kickstart your day, so let them hop into your shopping cart now!
3. I'm Nuts About You!
We're totally nuts about you, just as much as you'll be nuts for our delicious sugar cookies! Our 'I'm Nuts About You' pack is perfect for anyone who wants to come out of their shell to profess their love for someone!
2. Sugar Sweet Sprinkles
You are the sprinkles to my ice-cream! Tell someone how sweet they are today with this cookie pack - if you've got a sweet tooth for ice-cream, but it melts way too fast, hey, why not try our Sugar Sweet Sprinkles pack? Our cookies won't let you down!
1. Sweet Sushi
There's no such thing as too much sushi, so keep your friends close and your sushi closer! If you can't get enough of Japanese Cuisine, why not try our Sweet Sushi cookies? Make every day Sushi Day with these sweet treats!
-----
That's all from us for our TOP 10 Delicious Food-Themed Cookie Packs! If you weren't hungry before reading this list, you definitely are now! Treat yourself to our beautifully decorated cookies today!
Until next time!