Mother's Day Cookie Packs!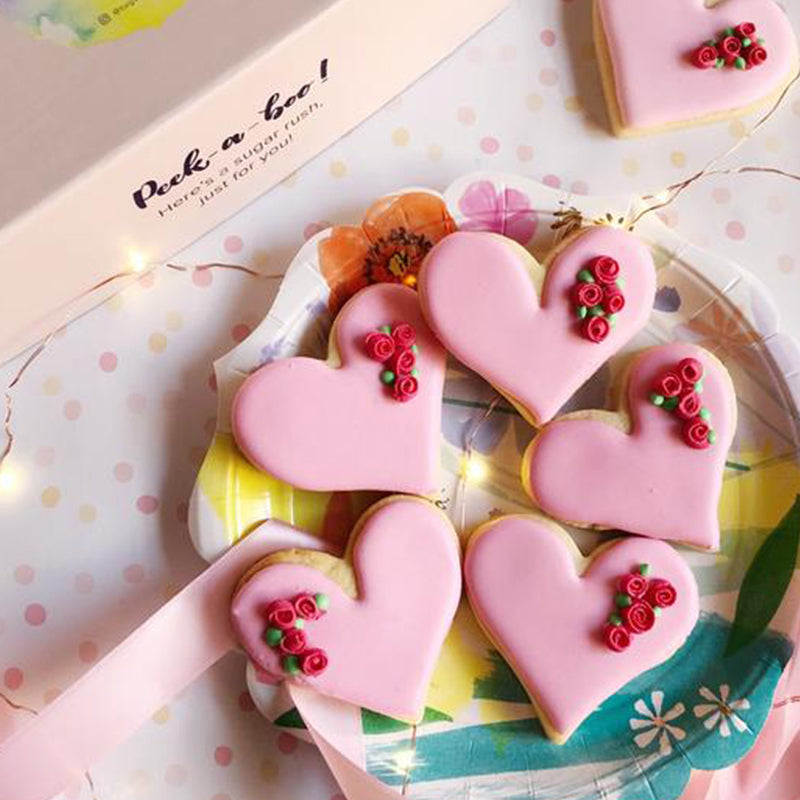 Today, we're going to be sharing with you the TOP 10 Delicious, To-Buy Cookie Packs for Mother's Day! Mother's Day is just around the corner (May 9th), and if you're having trouble thinking of what to get her for this momentous occasion, well, you've come to the right place!
We've got a large catalog of products, so to help you out, we've narrowed the selection down to the 10 best Mother's Day themed cookies!
Not to mention, that if you order by the 3rd or 4th of May 2021, you'll have your shipping upgraded to express!
Without further ado, here's our Top 10 Cookie Packs for Mother's Day! 
---
Sunny Sunflowers
Wherever you go, no matter what the weather, always bring your own sunshine! Our Sunny Sunflowers Cookie pack is sure to brighten your mum's mood, wherever she is. There's nothing like the sight of bright yellow flowers that lifts the spirits, and seeing as the sunflower represents adoration, loyalty and longevity; we can think of no better cookies to offer your beloved mother!
Treat Yourself!
Spa days are a necessity, not a luxury! Sometimes you just have to let go, and have a relaxing weekend through pampering yourself! Go the extra mile by getting our Treat Yourself! cookie pack for your mum this Mother's Day - they totally deserve it!
Shine Bright Like A Diamond
True companions are like diamonds – bright, beautiful, valuable, and always in style. We can think of no better way to let your Mum know just that! Our Shine Bright Like A Diamond cookie pack will make your mother feel like a true queen!
Love You, MUM!
These lovely heart-shaped cookies are individually hand piped with love, with a red rose motif, and there's no better way to say 'I Love You' than with our Love You, MUM! Cookie pack! We really hope these gorgeously decorated cookies will melt your mum's heart! 
Indoor Plant Lover Pack
You can never have too many indoor plants! There are many mums out there who just adore nature - plant moms, if you will! If your mom is one of these plant moms who are just obsessed with greenery, then you know that this is the cookie pack just for them!
Mother's Day Flowers
Mothers are flowers in the garden of life, each one beautiful and unique. For this Mother's Day, say 'I love you' with flowers - the edible kind! With our Mother's Day Flowers sugar cookie pack, you're sure to steal her heart and win her over.
Great Job, Mum!
Great job, mum! Tell your mum how you turned out super awesome with our Great Job, Mum cookie pack! Surprise your mama bear and tell her how you feel about her! Surely, she'll be able to appreciate some humour to brighten up her morning, right?
A Garden of Flowers
Flowers and freshly baked cookies have the power to lift the spirit and refresh the soul! Your mum has been hard at work at, well, being your mum! We think that gifting her these beautiful sets of flowers will do just the thing this Mother's Day, don't you?
Let's Avocuddle
Cuddles are one of the best sources of feel-good emotions! Meet Mr. Toastie and Mrs. Avocuddle. They make the cutest couple, and they always avo good time when they're with each other! Seeing as your mum made you breakfast for the longest time, maybe it's time you offered here some breakfast-themed treats on Mother's Day!
Happy Mother's Day
Mothers hold their children's hand for a while, but their hearts forever.  Show your mom that you'll always love her by telling her with these marbled pink-white debossed fondant cookies, baked into the shape of a heart! These cookies are an absolute classic, and you can't go wrong with it!
That's all from us for our TOP 10 Delicious Mother's Day Cookie Packs! We hope that you and your dearest mumsie will have a lovely Mother's Day this month! 
Remember, if you order by the 3rd or 4th of May 2021, you'll have your shipping upgraded to express!
Until next time!