Cookie Advent Calendar - Christmas Cookies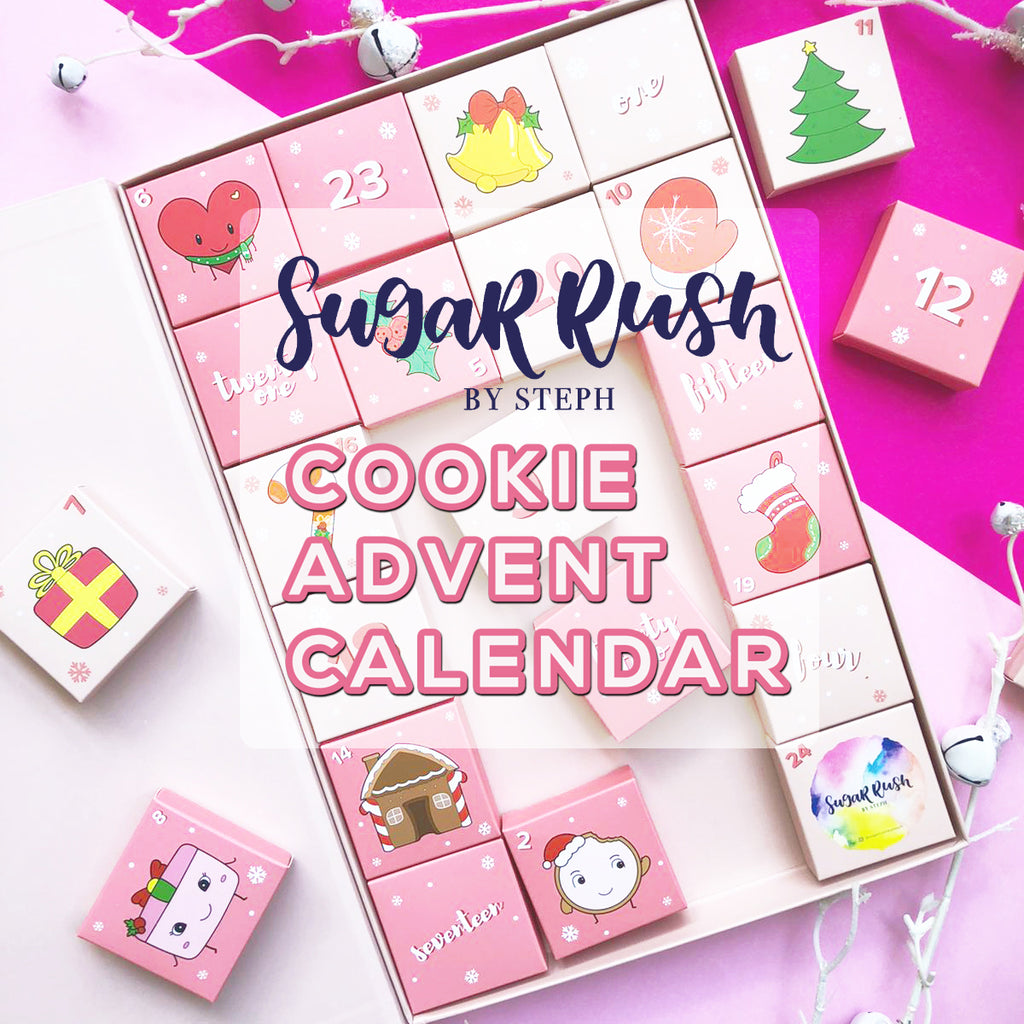 HO-HO-HO!  It's going to be about that time of the year again! Christmas is coming in just over a month's time, and boy, do we have just the thing for you! In addition to our existing Giant Jumbo Cookies, one of our most popular seasonal purchases from last year is making its appearance in 2021 again - our very delicious, specially made, Sugar Rush Cookie Advent Calendar! How exciting! Don't know what an Advent Calendar is? Let us enlighten you!
An Advent Calendar helps count down the days until Christmas, usually with a small item of some sort! As seen in our product shots, every Advent Calendar box comes with 24 little boxes, filled with delicious cookie treats of various different designs! With these, you can count down all 24 days to a very special Christmas this year with our delicious sugar cookies! Each box holds a surprise mini-cookie for you to devour, lovingly homebaked just for you!
Our pretty pink Advent Calendar was designed in house, so on each little box, you'll be able to see some cute artwork to go with your cookie! Make sure you go in order of how these boxes are numbered, from 1 to 24! It'll be fun trying to spot which box holds your next scrumptious cookie for the day!
This Advent Calendar is perfect for families, or for anyone who adores the Christmas Season and wants to spend it with a tummy full of love! Are you sold on it yet? If so, then we think it's time for you to start pre-ordering soon! After all, December is only… *gasp* - 9 days away! Buy this unique gift for your friends and family today, and they'll have fun that'll last the whole month!
Once you have pre-ordered this box, your Sugar Rush Advent Calendar will be dispatched to you by late November, before December 1st, depending on the suburb and state! Pre-order your Sugar Rush Cookie Advent Calendar now, before we run out of stock! You wouldn't want to miss out on something so amazingly cute and compact, would you?
Click this link to head right over to our Cookie Advent Calendar product page now!
If you're enjoying these Christmas-themed cookies, might we also suggest some other of our gorgeous cookie packs? Browse our new Christmas Collection right here!
Until next time!