Christmas Cookie Cutters!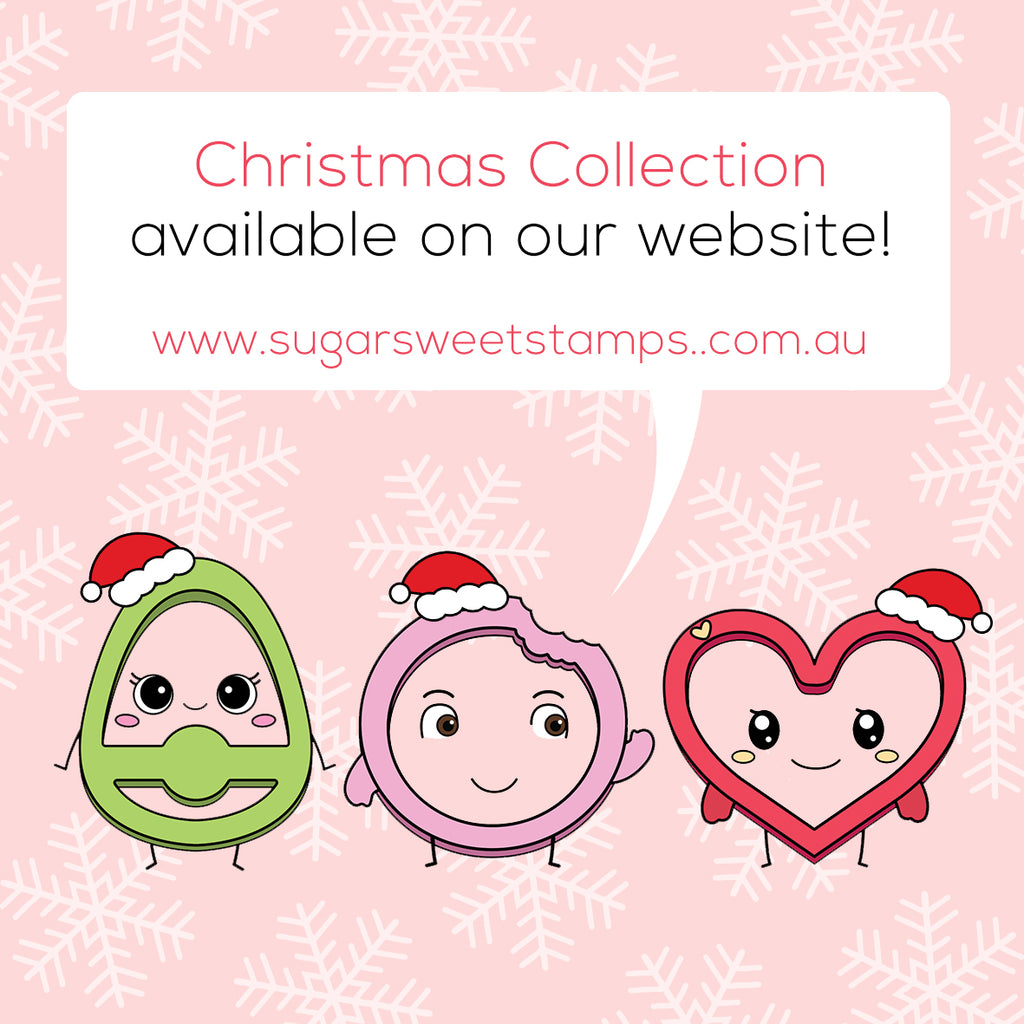 If you've been keeping up with our weekly blog posts, then we're sure you know of our amazing sister business - Sugar Sweet Stamps! Need a refresher? No worries! 
Sugar Sweet Stamps was created out of a love for baking and decorating scrumptious sugar cookies. We thought to go the distance - what if we could mould our cookie desires into reality? What if we created our own baking products? Hence, Sugar Sweet Stamps was born!
You've seen our Christmas-themed cookies from our last blog post, now, you're probably thinking - hey, wouldn't it be great if you could bake some of your very own Christmas cookies too? Look no further - we've got just the solution for you! 
Today, we'll share with you our sister business', Sugar Sweet Stamps' very own Christmas Creations! With their cookie cutters, you'll be able to start whipping up winter treats in your own kitchen too! Here are some of our popular Christmas Cookie Cutters:this season!
Chubby Candy Cane Cookie Cutter
Sweet and twisted... does that make one a candy cane? You know it's officially the Christmas and Winter season when you start seeing Candy Canes everywhere! Usher in the festive season by baking some with our Chubby Candy Cane Cookie Cutter!
Cute Reindeer Cookie Cutter
Rudolph the Red-Nosed Reindeer had a very shiny nose! And if you ever saw it, you would even say it glows!
Be a dear, and get our Cute Reindeer Cookie Cutter to start baking some treats for this coming Christmas!
Christmas Yeti Cookie Cutter
Are you yeti for Christmas? Our adorable, snowy, Christmas Yeti sure is! Ready or not, it's Christmas time, so get our Christmas Yeti Cookie Cutter and bake yourselves an army of cuteness for the winter season!
Milk For Santa Cookie Cutter
Santa Claus is coming to town! He'll need some beverages for the long night delivering presents! Help lay out some cookies and milk for him, with our Milk For Santa Cookie Cutter! He (and whoever's eating your delicious treats!) will be delighted with these cookies!
Nutcracker Head Cookie Cutter
Having some problems trying to open roasted walnuts and chestnuts this Christmas? Not to worry, this toy soldier will help you crack open those treats! Use our Nutcracker Head Cookie Cutter to usher in the Winter season! Fun fact: in some places, Nutcracker decoratives are a good luck symbol too, so why not bake more of them in cookie form? You can never have too much good luck!
---
And as you can see, there's more where that came from! If you're keen, then browse Sugar Sweet Stamp's Christmas Cookie Cutter Collection right here! 
Did you know that all our Cookie Cutters at Sugar Sweet Stamps are designed and printed in-house? Each cutter goes through a long process of making the artwork, modeling the cutter in an AutoCAD software, all the way to 3D printing and packaging! We're coming up with new stuff everyday, so make sure to stay tuned for more! 
Also, don't miss out on free shipping if you purchase over $100 worth of Cookie Cutters! What a deal! 
We hope you enjoyed all of our unique cutter designs, because we have so much more over at our website! Sugar Sweet Stamps is available worldwide, so what are you waiting for? Shop now at www.sugarsweetstamps.com.au!
Until next time!