Baking Your Corporate Orders! - Corporate Cookies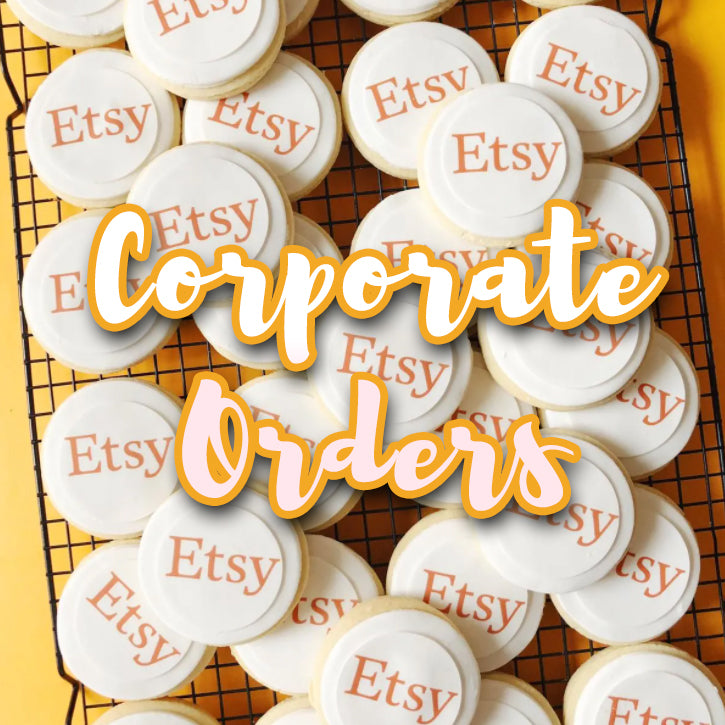 Did you know that us bakers at Sugar Rush by Steph can also carry out large scale orders? Lately, we've been up to our knees in baking many cookies for our corporate clients! These big orders are no joke - they sometimes go up to the thousands, so we're glad that our clients trust us to deliver on both the quantity and quality of our delicious cookies. Good thing that we have an amazing team at our back!
Interested in seeing some cookies we've made for some clients? Keep reading and we'll show you a couple!
Etsy
Aren't these Etsy cookies on point? Any craftsman, craftswoman, artist or hobbyist has definitely heard of the online marketplace! We worked with Etsy to make some corporate cookies for them - simple cookie rounds with their logo printed in edible images! There's nothing that makes more of a statement than one's company logo on some delectable confectionaries! That's a cookie to remember!
Garnier
Garnier is a household name in the world of skincare and beauty! Garnier reached out to us, and we responded by making a bunch of beautifully debossed cookies! With a custom green fondant and minimal text, these cookies stood out at their event. Choosing a colour and phrase to put on their cookies was as simple as it sounds, and it was even simpler for them to order these! Here at Sugar Rush, we always try to communicate to the best of our ability, and we make sure that your needs are met with ease!
Google
Who can live without Google these days? It's only the top search engine of the Internet, and a tool for many to use - such as Gmail and Google Drive! Google is all about connectivity, and it was a surprise that they'd contacted us for their next corporate event. No request is too big to accomplish, so when they requested for their logo in a cartoon television - we came through! With our own 3D Printing Machine, edible images and custom graphic artists, we put all three together to make these cookies become a reality!
Go-To Skincare
Go-To Skincare is worry-free skincare that works! They're all about being au naturale, so naturally, we also opted for a tame, yet aesthetically pleasing colour scheme. Christmas was on the way, so we coupled these tones with some winter-themed shapes. If your company has a special occasion coming right up, rest assured, we can also tailor our cookies according to it - just ask!
The Salvation Army
There's nothing that says Hope in a box more than a box of freshly baked cookies! Working with The Salvation Army, Sugar Rush by Steph packaged four cookies in a single box - a nicely wrapped gift for anyone who was at their event! Should you have any requests for packaged cookies that consist of more than just one per person - just drop us a line saying so, and we can work something out! The receivers of these cookies are sure to go home with a smile!
-----
If you work in HR, or you're a boss that's simply interested in treating their employees to a sweet treat, then look no further! Check out the list of companies and clients we've served cookies over here, at our Clients Page. 
Many of our favourite cookie monsters wear a collar, so if you are interested in creating your own cookies for your next event, like our friends listed above have, then simply head over to our Corporate Orders page and complete the form there! Make sure you include as detailed a description as possible, and we'll do our best to accommodate your needs. Sugar Rush by Steph is looking forward to your order!
We hope that you'll think of us for your next event, because we're totally ready for it!
Until next time!