PRE-ORDER NOW! Christmas Cookies & Cookie Advent Calendars!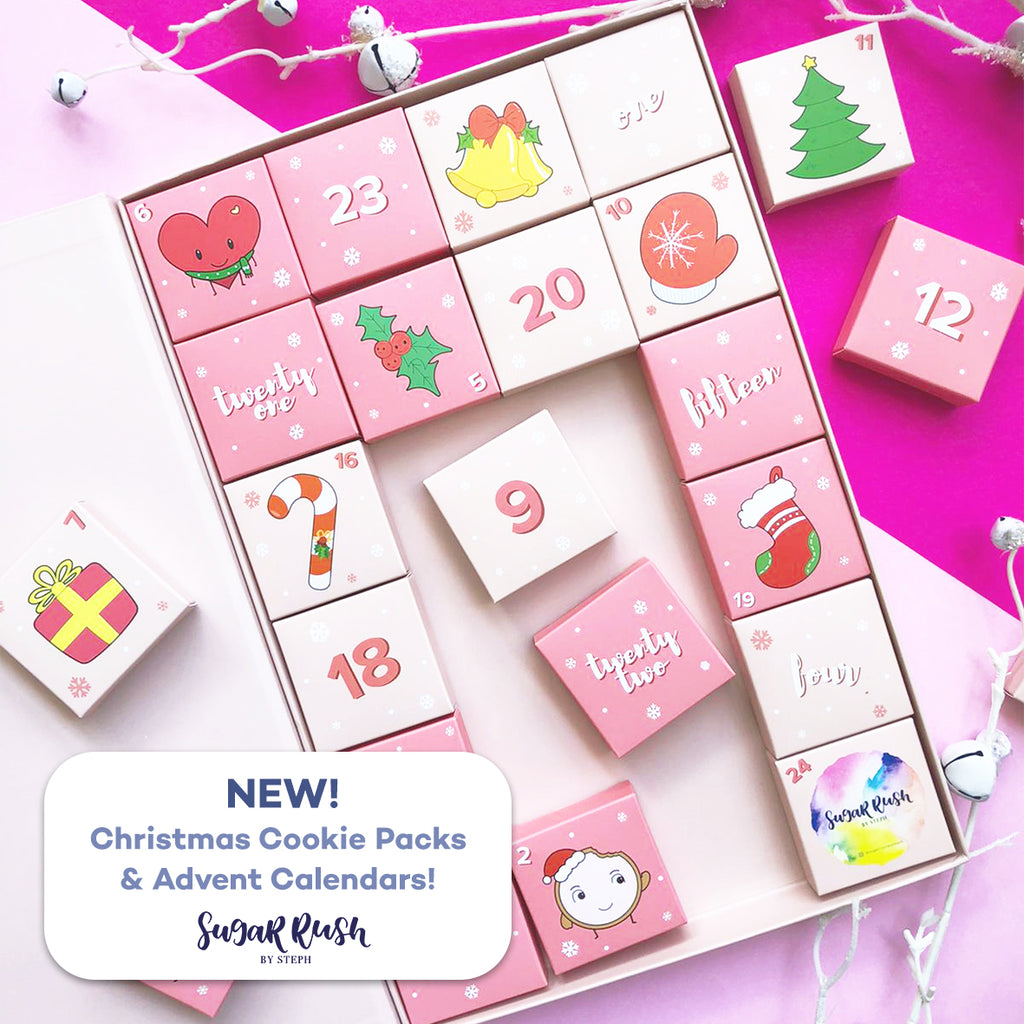 Christmas time is a time to to eat and fill your belly - that's what Christmas is for! This Holiday season, Sugar Rush by Steph has got some brand new cookie packs as well as time-tested favourites stocked, just for you! Want to know what our top cookie packs are this Xmas 2022? Keep reading and find out!
---
Gingy Friends
You know it's Christmas time with Mr and Mrs Gingy come out to play! Celebrate this winter holiday season with our Gingy Friends Cookie Pack- available in either vanilla or gingerbread flavour!
Gingerbread House DIY Kit
It's time to get creative this Christmas with our Gingerbread House DIY Cookie Kit! With this DIY Kit, you'll have all you need to construct a cute, delicious 'lil home for your gingerbread men and women - just choose from one of two flavours: Vanilla or Gingerbread, and you're good to go!
Snuggly Snowman
Get ready for the holiday season with our Snuggly Snowman Luxury Gift box! This big snowman even comes all decked out with a fancy top hat and a warm scarf, all dressed up for your home - who could deny something so cute and delicious?
Silly Santa
Mum, dad - Silly Santa's stuck in the chimney again this year! Have you laid out your cookies and milk for Santa? If you haven't yet, then this cookie pack is perfect for the job!
Dreaming Of A White Christmas
Dream of a White Christmas, where the tree tops glisten and the children listen to hear sleigh bells in the snow! May your days be merry and bright, and may all your Christmas holidays be white with snow!
Cookie Advent Calendar
HO-HO-HO! Merry Christmas, everybody! Our very own Sugar Rush Cookie Advent Calendar is making a comeback! This item is one of our most beloved purchases for friends and family during the holiday season!
Count down all 24 days to a very special Christmas this year with our delicious sugar cookies. Each box holds a surprise mini-cookie for you to devour - so what are you waiting for? Pre-order a box now!
This Advent Calendar is perfect for families, or for anyone who adores the Christmas Season and wants to spend it with a tummy full of love!
---
That's it for the our new cookie packs this Christmas, as well as our beloved Cookie Advent Calendar? What was your favourite pack? Be sure to get your cookie orders in soon, before we get busy this holiday season - deliciousness is on its way!

Until next time!