Crafting Sweet Magic with Le Cordon Bleu Expertise!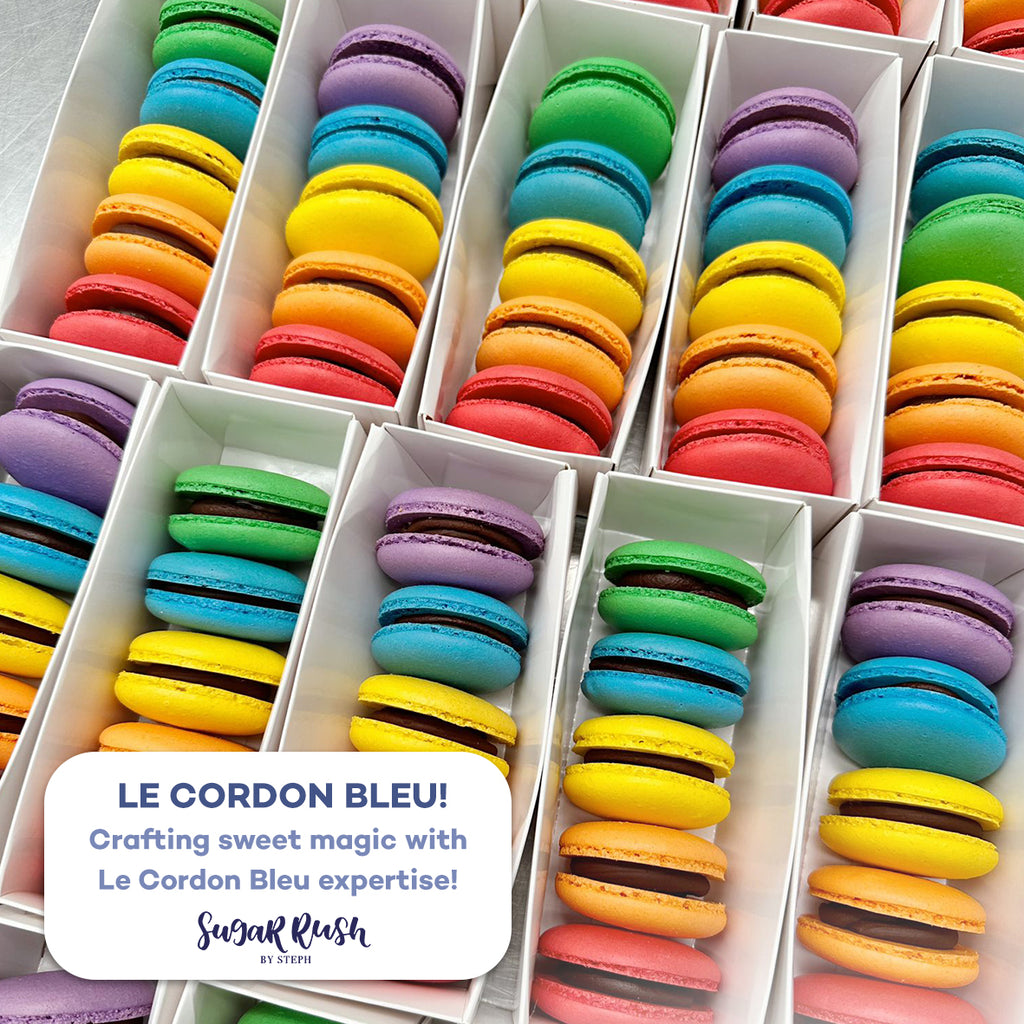 Hey there, cookie lovers!
At Sugar Rush, we're all about bringing you the most scrumptious treats that not only make your taste buds dance but also fill your heart with joy. And guess what? We're beyond excited to introduce you to our superstar baker, Stephanie Chan, who's armed with a certificate from the world-famous Le Cordon Bleu Institute in Patisseries. Trust us, having this culinary wizard on our team is like having a sprinkle of magic in our kitchen!
A Dash of Le Cordon Bleu Magic
Now, if you're not familiar with Le Cordon Bleu, let us tell you, it's like the Hogwarts of the culinary world! Our talented baker graduated from this prestigious institute, and we're not holding back our excitement. Why? Because it means that every delightful treat we whip up has a touch of Le Cordon Bleu excellence. It's like turning everyday desserts into enchanting experiences that will leave you craving for more.
Behind the Scenes: Creating Macaron Wonders
Oh boy, you're in for a treat! Our baker's journey included mastering the art of crafting the dreamiest macarons you've ever tasted. And guess what? These babies are now front and center on our menu, ready for you to indulge in. Take a peek at the behind-the-scenes snapshots – you'll see the passion, precision, and yes, a whole lot of love that goes into creating these fluffy delights.
Let's Dive In, Shall We?
Hold on tight, because our Le Cordon Bleu-trained baker has added a dash of magic to our creations. The macarons they've crafted are like mini works of art for your taste buds. Flavors burst, textures dance, and every bite is a symphony of yumminess. From classic favorites to surprising twists, these macarons are a journey you won't want to end.
Sweet Moments: The Grand Finale
As we roll on our adventure of making the world sweeter one treat at a time, we're overjoyed to have our Le Cordon Bleu rockstar by our side. Stephanie's skills and passion have elevated our creations to a whole new level of deliciousness. From macarons to more intricate delights, our baker's artistry shines through, making every treat an experience to savor.
Explore the Magic: 
Purchase Our Bright, Marvelous Macarons today!