Celebrating Success: Maroondah Business Excellence Awards Finalist!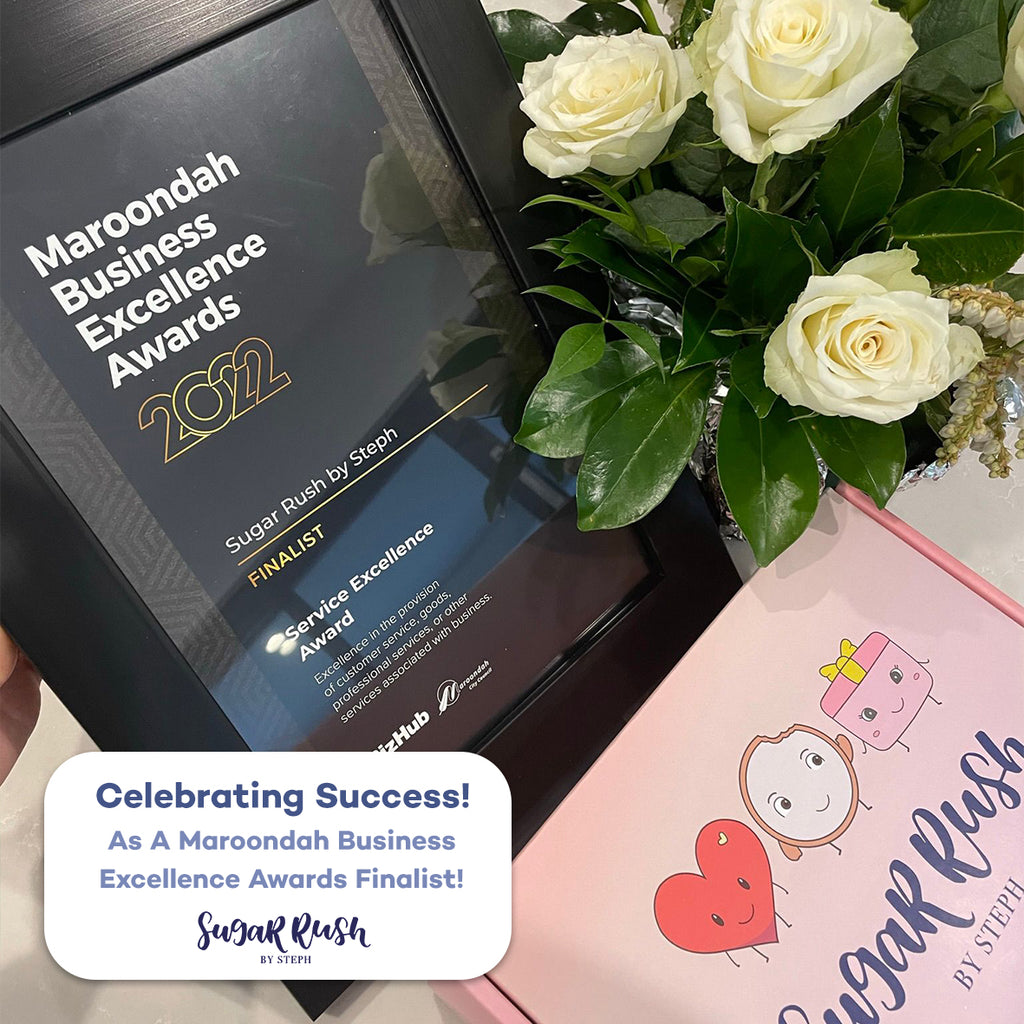 Hey everyone!
If you didn't know, Sugar Rush by Steph was honored as a finalist for the esteemed Maroondah Business Excellence Awards last year! This recognition is a true reflection of our commitment to delivering scrumptious cookies and exceptional service while spreading sweetness throughout the Maroondah community.
At Sugar Rush by Steph, we pour our hearts into creating delectable treats that bring smiles to our customers' faces. From carefully selecting the finest ingredients to crafting each cookie with love, our focus on quality shines through in every bite!
We understand that time is of the essence, especially for our corporate clients. That's why we go the extra mile to ensure our cookies reach you promptly. Our team is dedicated to meeting deadlines and delivering our mouthwatering delights on time, guaranteeing a sweet experience every step of the way.
We thrive on embracing new opportunities and catering to your unique needs. Whether it's a last-minute order or a special request, we pride ourselves on being flexible and accommodating. Our goal is to make your cookie dreams come true, no matter the occasion or time frame.
Your satisfaction is our ultimate reward. In the rare instance that any concerns arise, we are committed to swiftly addressing them with our signature warmth and professionalism. We believe in fostering open communication and providing a friendly point of contact. Reach out to us via email or phone, and we'll ensure your cookie experience is nothing short of delightful!
As we reflect on our journey as a finalist for the Maroondah Business Excellence Awards, we express our sincere gratitude for your ongoing support. Sugar Rush by Steph is driven by our passion for creating joy through cookies, and we are thrilled to have shared our sweet treats with the Maroondah community. Thank you for allowing us to be a part of your celebrations, and we look forward to serving you with more sweetness in the future!
If you have any questions or wish to indulge in our irresistible cookies, don't hesitate to contact us. We're here to sprinkle your day with sugary goodness and make each bite an unforgettable experience!